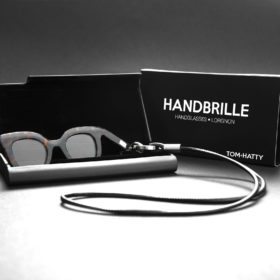 HANDBRILLE – die Brille mit Griff
See and be seen better – The Schindelberg hand glasses promise stylish extravagance with their light, rounded square shape.
The HAND GLASSES can be used on both sides, so both for right, – as well as for left-handers designed.
The HANDBRILLE comes in a high quality hardcover case made of brushed plastic with separate compartments. With the accompanying, round hemmed, neutral black leatherette strap, the HANDBRILLE can be worn immediately.
The full frame is made of skin-friendly cellulose acetate.
HANDBRILLE is the reading glasses with handle. It's always with you, highly functional and at the same time a fashion must-have to keep every moment sharp.
HANDBRILLE reinterprets the traditional lorgnon as an individual lifestyle statement. A unique piece of jewellery for neck and face, full sight always in hand. See and be seen, life is colorful and beautiful!