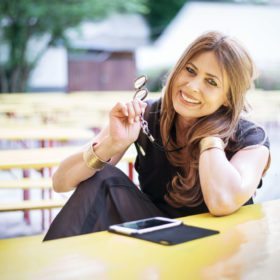 On a cold February evening in Copenhagen, I sat exhausted in the hotel restaurant.
Since I was unable to decipher the menu, I asked the waiter for a candle and complained jokingly about the bad lighting.
The elderly waiter laughed and said, "Ma'am, you do not need a candle, you need glasses."
I laughed considering the fact that I would need a pair of glasses – what a joke!
My laughter soon passed away when the waiter handed me his reading glasses, and to my horror and amazement, I was able to read the menu clearly.
And that moment was the very beginning.
The beginning of a new age in my life.
The beginning of many purchases, of not very flattering reading glasses.
The beginning of eternal ups and downs of wearing reading glasses: in my business, at home, shopping, in the museum, in the restaurant, soon they became apart of my everyday life.
All these beginnings helped create my concept of Handbrille.
The quality of life is to rise with the elderly, not sink wit it, damn it!
Looking for a more fashionable option, I remembered the traditional Lorgnons (spectacle) and I quickly realized that these, worn with simple a chain around the neck, could be the solution.
They are incredibly beautiful, antiquarian spectacles to buy, but it would be strange to use them in everyday life.
And so It was then, that I decided to create my own, contemporary, trendy, modern, and unique pair of reading glasses.
And here it is: The HANDBRILLE!
It is a very exciting and lively feeling to create a new product, it would make me very happy if Hanbrille could make your life a little more colourful.
Yours truly,
Ivy Bossert